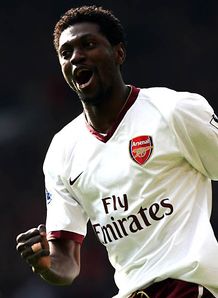 Arsenal chairman Peter Hill-Wood insists the club have no intention of selling star striker Emmanuel Adebayor at any price.
Barcelona and Milan are keen on the Togo international, who is under contract at Emirates Stadium until 2011, and the former have reportedly had a £25million offer rejected.
Both Barca and Milan are eager to rebuild after disappointing seasons last year and neither are expected to give up their pursuit of Adebayor without a fight.
However, Arsenal have responded to calls from Adebayor's agent Stephane Courbis to demonstrate their desire to keep the 24-year-old and are adamant they will not be selling.
Stay
"We want him (Adebayor) to stay," Hill-Wood said in the Daily Telegraph.
"Adebayor still has a long time left on his contract and we have absolutely no intention of releasing him from that contract."
Meanwhile, Hill-Wood expects Alexander Hleb - a target of Barca, Real Madrid and Bayern Munich - to leave Arsenal.
Manager Arsene Wenger has already seen Mathieu Flamini join Milan on a free transfer and Hill-Wood is also braced for Hleb's Emirates exit.
"Hleb has made it clear he wants to go," Hill-Wood added. "I think maybe he will go."