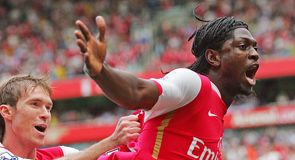 Arsenal chairman Peter Hill-Wood is unaware of any fresh developments in the 'long-running sagas' over Alexander Hleb and Emmanuel Adebayor's future.
Belarusian midfielder Hleb has been strongly linked with a move to Barcelona, and is reportedly set to complete his transfer in the coming days.
Meanwhile, Adebayor's future is uncertain with Gunners boss Arsene Wenger insisting the striker will remain at Emirates Stadium, despite interest from AC Milan and Barca.
When asked of the latest news on the duo's futures, Hill-Wood told the club's
official website
: "No, nothing new. But it is a long-running saga in both cases."
Ramsey and Nasri
So far this summer Wenger has landed teenage midfielder Aaron Ramsey from Cardiff and France international Samir Nasri from Marseille.
And Hill-Wood is excited by the potential of Arsenal's latest recruits ahead of the new season.
He said: "I don't know a great deal but it doesn't terribly matter what I think. The man who matters is Arsene Wenger and he has very high hopes for both of them.
"They are pretty young and Arsene believes they can be pretty fine players. Nasri is a bit more advanced than Ramsey, who is 17.
"Samir has played at the top level and is an established player already. They are two very exciting prospects and they will strengthen the squad in a big way."